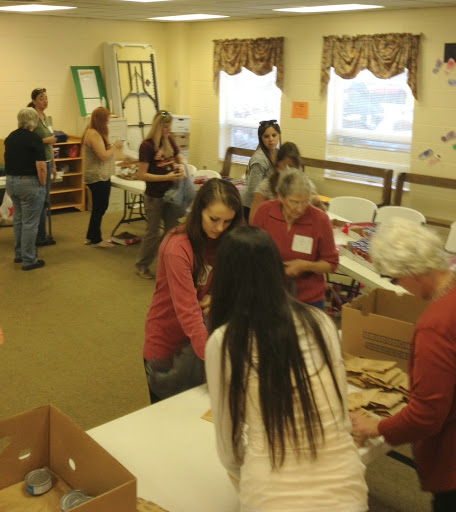 To start, identify a group of low-income senior adults who are facing hunger issues (HUD Senior Housing is a good place to start) and then gather a group of five or six individuals who are passionate about helping and seniors. With this planning group discuss possibilities, review ideas and pick a date to distribute food for the first time. Use that date to work backwards to establish a timeline of tasks that need to be accomplished. Start small. The need may be great, but starting small allows the group to discover and solve any problems that may arise and allows the group to build upon success. You can always add bags as you add resources.
One congregation or local non-profit will need to serve as the sponsoring agency so that financial gifts can be properly received and acknowledged, but having a broad coalition of individuals and organizations to provide volunteers, financial support and food donations is a key to long-term success. Some partners will come and help pack and distribute food, some will conduct single-item food drives and others will provide financial donations.
The start-up costs were extremely small.  We purchased name-tags for the volunteers to wear during packing and distribution, as well as clipboards to make it easier to fill out the menus.  Because of the menu system, Micah's Soup for Seniors tends to only keep the food need for each month on-hand, so most of the storage is short-term and no new shelving was needed.  The church provided the copies and copier paper needed for brochures and menus.
Since Micah's Soup for Seniors is still relatively new, there is not currently enough data to get exact costs of the program. The goal is to keep the cost of each food bag below $10.  Since we provide choice for the participants and some do not select the maximum amount of food, the average cost per bag will be less than $10.